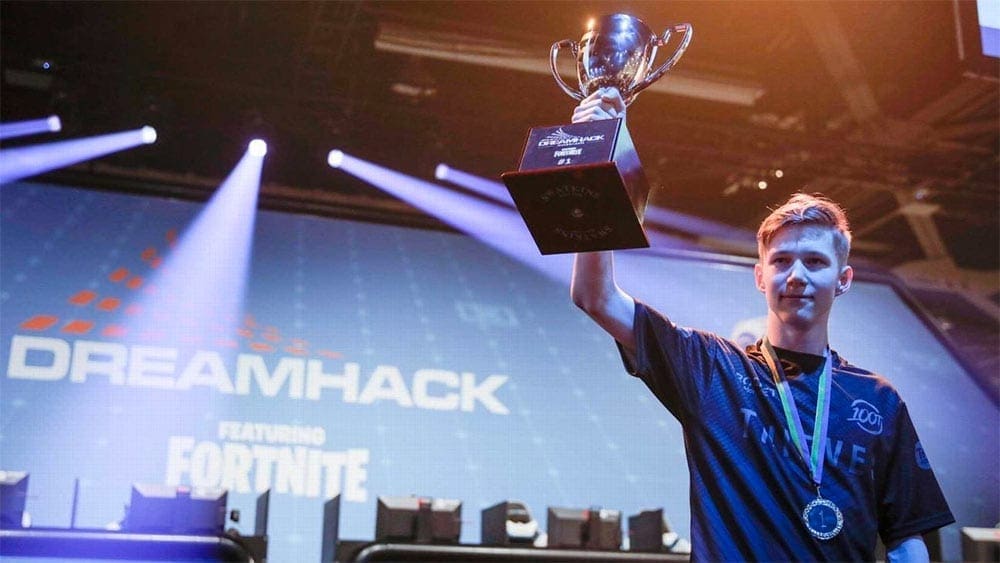 by in
Martin "MrSavage" Foss Andersen, a 15-year-old Fortnite esports professional, won gold at the DreamHack Anaheim tournament over the weekend, solidifying himself as one of the top players of the widely popular battle royale title shortly after joining 100 Thieves.
The Norwegian teenager pocketed 2,000 Fortnite Power Ranking points and US $30,000 in tournament winnings, leaving the remaining $220,000 of the prize pool to be split amongst 99 runners-up.
Finishing second was Timothy "Bizzle" Miller of Ghost Gaming, while a free agent called "nanolite" came in third to claim the first Fortnite tournament podium of his career.
MrSavage's success in Anaheim comes only four days after he signed a contract with 100 Thieves, thus becoming the ninth Fortnite player to compete under the guidance of Call of Duty legend Matthew "Nadeshot" Haag. MrSavage also became the founding member of 100 Thieves.EU – a European branch of the North American esports organisation's Fortnite team.
A day later, on Friday, February 21, 100 Thieves also signed Brodie "Rehx" Franks to their Fortnite squad. He finished the DreamHack event in 19th place and pocketed $3,000 in tournament winnings as well as 229 PR points.
"I'm just really happy all my hard work has paid off. I've been playing a lot over the past year trying to really improve," said MrSavage.
The DreamHack Fortnite tournament was BYOC (Bring-Your-Own-Computer), meaning it was open for everyone who brought their own setup and was at least 13 years of age. The tournament format split the competition into three stages.
The first stage was open for everyone who signed up and it featured two heats – blue and yellow. Each player was allowed to play up to 10 matches in each heat, with only the top 200 from each heat advancing into the next stage. In the second stage, the top 400 players were once again allowed to play up to 10 matches, with the top 100 players advancing into the grand final. There, the 100 finalists played in eight-game series with small breaks in between each game.
"I feel like it's been really well organised and it's been really fun," added MrSavage.
This was MrSavage's first tournament win since late January, when he finished first at Platform Solo Cash Cup – PC: Chapter 2 Season 1 – Week 10: Europe, while still playing for NRG.EU. The Norwegian esports prodigy also won the Community Showdown Finals and War Legend: Invitational Series Finals back in December and accumulated a couple of top-three finishes at Platform Solo Cash Cup – PC back in November and December as well.
MrSavage finished 2019 ranked as the eighth-best PC Fortnite player in Europe, with 60,200 Power Ranking points, six event titles, two silver medals, three bronze and four fourth-place finishes. He is currently leading the 2020 European PC standings with 5,525 PR points, ahead of Raifla (3,875), Alexandre "Andilex" Christophe (3,400), Anas (3,325) and last year's PC champion and his former teammate, Benjy "Benjyfishy" David Fish (3,200).