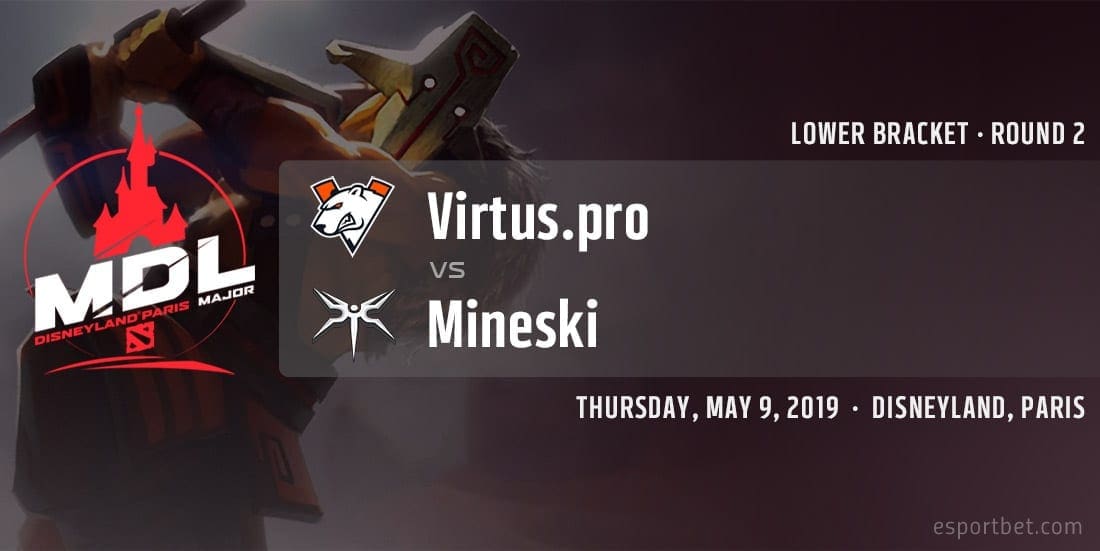 by in
Thursday, May 9, 2019 – 19:30 UTC+8
After losing in the upper bracket at the MDL Disneyland Paris Major, Virtus.pro now take on Mineski in a best-of-three series which promises to provide some fireworks.
The best CIS team finished top of Group A despite failing to beat Beastcoast with Broodmother in game two.
SEE ALSO: HOW TO BET ON DOTA 2 ESPORTS
Virtus still dominated the group by taking down Beastcoast and Team Liquid and tried out plenty of core heroes in the draft, with Troll Warlord and Doom among their favourites.
They also showed the other participants that they are comfortable with Drow Ranger's strategy together with Storm Spirit as position two, as per the second game against Team Liquid.
Even when Liquid drafted Drow Ranger as well, Virtus still came out on top.
They could not get past OG, however, and must now take the long route towards the finals.
SEE ALSO: MORE ESPORTS BETTING TIPS
Mineski never stood a chance of finishing top two in Group C, where Vici Gaming and PSG.LGD romped into the upper bracket.
The Southeast Asian side experimented with several heroes in the group stage, but LGD had all the answers and countered Mepoo's play perfectly with Somnus's Storm Spirit in the laning phase.
Mepoo will not work against such a formidable squad as Virtus.pro, who will be well aware that Mineski spammed this hero twice in the group stage.
Virtus.pro vs Mineski betting prediction
We give Virtus.pro a 70 per cent chance to win this match-up in a clean sweep.
This is a high-class team that has eyes for a top-eight finish despite slipping from the upper bracket.
Virtus.pro to win 2-0 – -151.52 at BetOnline