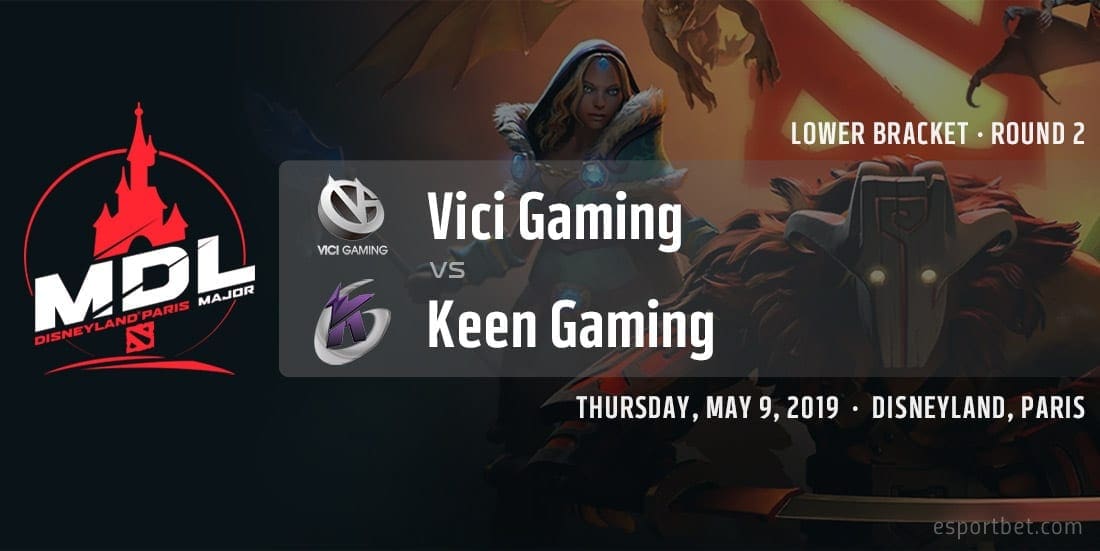 by in
Thursday, May 9, 2019 – 20:30 UTC+2
Vici Gaming, the current best squad in the China region, will do battle against Keen Gaming in the MDL Disneyland Paris Major. This upcoming match-up is a best-of-three series that will see the losers go home with 150 Dota Pro Circuit points and the winners advance to the next round of the playoffs, where they will face either Team Liquid or paiN Gaming.
Vici dominated Group C, including PSG.LGD and paiN, without losing a single game. Looking into their draft, only Shadow Shaman and Abaddon being were picked more than once in the group stage. They do not have any limitation problems when it comes to drafting core heroes.
SEE ALSO: DOTA 2 BETTING GUIDE
Vici's first opponents in the playoffs were Ninjas in Pyjamas (NiP), the second seed from Group B. In game one, NiP did their homework and stole Shadow Shaman from Vici, who then picked Earth Spirit to work with Abaddon as dual core.
Moving to the game two, Vici Gaming went with the classic but gold combo picks, Phantom Assassin and Magnus. Without breaking a sweat, they won the game after Paparazi reached BeyondGodlike's streak by securing 10 kills without dying.
Vici's draft was bad because they picked all range heroes without a frontliner after banning Drow Ranger. NiP's draft was normal – Phantom Lancer and Razor to deal damage and tank with Enigma, Jakiro and Sand King as disablers.
Vici had to call GG because they did not have any chance of winning the game after Phantom Lancer purchased Heart of Tarrasque and Butterfly around the 30-minute mark.
Keen Gaming, the third-place holder from Group A, are not performing well in this tournament. They were only able to take down Beastcoast in the group stage before beating Fnatic in the first elimination match.
Both Beastcoast and Fnatic have made roster changes recently, so the two losses to Team Liquid in the group stage are probably a better read of Keen's form.
Vici vs Keen betting predictions
Despite their draft issues against NiP, we give Vici Gaming an 80 per cent chance to win this match-up. That said, don't be afraid to put some money on Keen Gaming in the live betting markets if they manage to pick up Drow Ranger.
Vicing Gaming to win – -227.27 at BetOnline