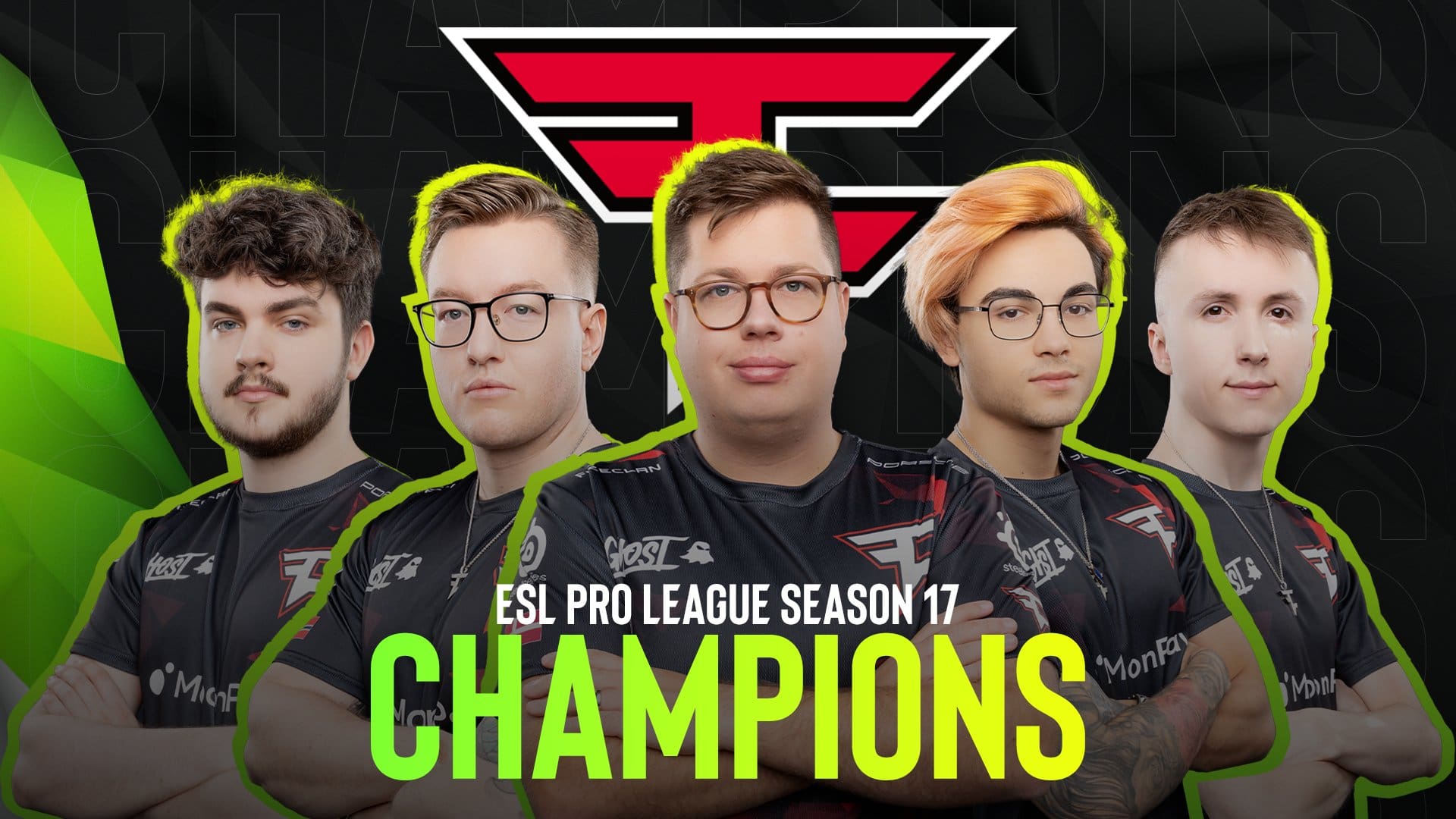 by in
FaZe Clan and Cloud9 faced off across four maps in the ESL Pro League Season 17 grand final on Sunday, with FaZe winning 3-1 to win their second Pro League title and their first Intel Grand Slam.
Cloud9 chose Overpass for the first map of the series, and while they fought hard, FaZe proved too strong in the final rounds, and they took a 1-0 lead going into their map pick of Inferno.
Inferno saw FaZe dominate the first half 11-4 before winning the map 16-9, meaning the international squad only needed to win one more map to claim the ESL Pro League trophy.
Cloud9 fought back and won their second map pick on Mirage, but when the two teams went to Ancient for the final map, FaZe won the series thanks to some big individual plays from players like Russel "Twistzz" Van Dulken and Robin "ropz" Kool.
Ropz won the MVP award for the third time in his career, after topping the server in nearly every category and finishing with the second-highest player rating in the competition.
THE FOUR STEPS TO @FaZeClan's HISTORIC #IntelGrandSlam TRIUMPH! 🏆🏆🏆🏆#IEM Katowice 2022#ESLProLeague Season 15#IEM Cologne 2022#ESLProLeague Season 17

The only team to win both Katowice and Cologne in their 4 win campaign. pic.twitter.com/FOzfIH4sX8

— ESL Counter-Strike 2 (@ESLCS) March 26, 2023
FaZe finally completed the Intel Grand Slam with victories at IEM Katowice, ESL Pro League Season 15, and IEM Cologne before winning their fourth 'Big Event' organised by ESL on Sunday.
The Intel Grand Slam was first introduced by ESL in 2017, with Astralis winning the inaugural season, followed by Team Liquid and Natus Vincere in seasons two and three.
Winning the Intel Grand Slam carries a high level of prestige, but the winner also receives a $1 million bonus.
FaZe created history not only by winning their first Intel Grand Slam, but also by becoming the first international squad to win the title with players from countries that do not share a language.
Meanwhile, Twistzz made history by becoming the first player to win the prestigious title for the second time, after winning the Grand Slam with Team Liquid in season two.
FaZe Clan will now focus on the BLAST.tv Paris Major RMR, while Cloud9 will have little time to reflect on what could have been, as the BLAST Premier Europe Spring Showdown begins on Wednesday.