The Apex Legends Summer Circuit is part of the Apex Legends Global Series (ALGS).
The Summer Series format is quite popular among gamers, and this year the competition is bound to deliver. There have been lots of events held to date, and there are many more to come.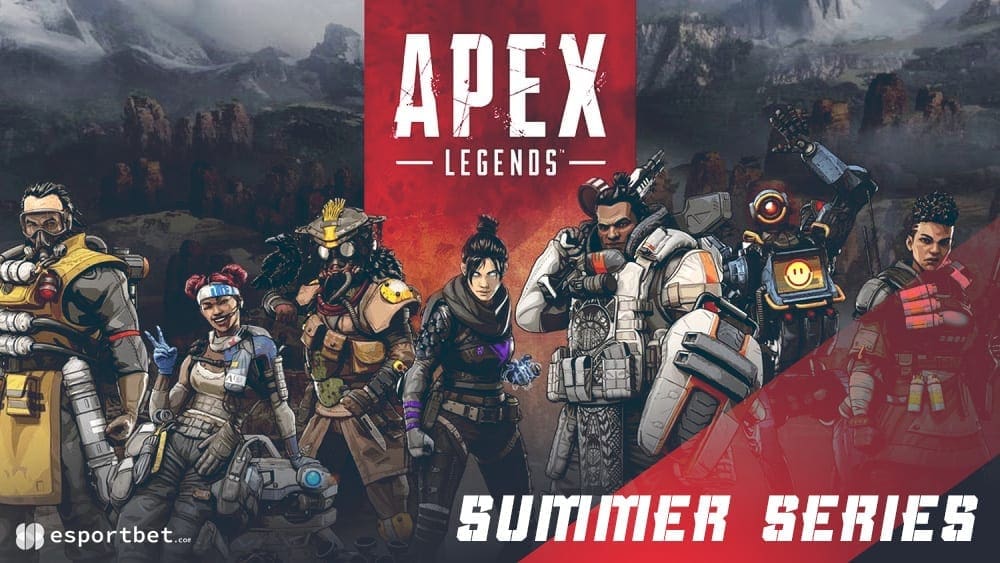 This summer, the ALGS will host several events to see who qualifies for the playoffs in September. Apex Legends betting is growing increasingly popular as the professional events gain more traction. Most of the top online esports betting sites feature markets on the Apex Legends Summer Series.
---
Apex Legends Summer Series Dates
Super Regional 1
June 20-21
EMEA

17:45 BST
Americas

15:45 PDT
---
Super Regional 2
July 11-12
EMEA

17:45 BST
Americas

15:45 PDT
Super Regional 3
July 25-26
EMEA

17:45 BST
Americas

15:45 PDT
Super Regional 4
August 8-9
EMEA

17:45 BST
Americas

16:45 PDT
Last Chance Qualifiers
August 17
EMEA

17:45 BST
Americas

16:45 PDT
Playoffs Day 1
September 12
APAC North

18:00 JST (2:00 AM PDT)
Americas

12:00 PM PDT
Playoffs Day 2
September 13
APAC South

14:00 AEST (21:00 PDT Sept. 12)
EMEA

14:00 BST (6:00 AM PDT)
---
Summer Series Prize Money
The Apex Legends Summer Circuit is a four-month competition that pits top teams from different regions around the world against each other for spots in the September playoffs. The prize money for the event is $500,000. That's the whole pot, though, so settle down there.=
First-place winners from the Americas and EMEA will win $36,000, and the ones from APAC North and South will get $15,000 apiece.
Each qualification event also has its own prize, with $28,000 being the most common pooled amount.
Every region has specific prize amounts for 1st, 2nd, and 3rd place in the Super Regionals.
In the Americas, 1st place wins $6,000 2nd $3,000, and 3rd $1,500.
EMEA 1st place winners also get $6,000, 2nd $3,000, and 3rd $1,500.
For APAC North and South 1st place winners get $2,000, 2nd $1,000, and 3rd $500.
The Summer Series prize money is just one added bonus of competing in and winning this seasonal competition.
Players receive Global Series Points as well and recognition for their wins. Those who don't advance are also awarded these.
---
Summer Series Format
This Apex Legends competition runs from June-September and has a three-month qualification process.
Players who advance to the September playoffs will have a shot to win the prize and Global Series Points.
EA Games and Respawn are hosting this event. You can watch the live stream on Twitch and YouTube.
The Super Regional Groupings are as follows:
APAC North = Japan, Korea
APAC South = Greater Southeast Asia, Australia & New Zealand
EMEA = Europe, Middle East & Africa
Americas = North America, South America
There are five qualification events before the playoffs in September. Each qualification event includes the chance to win a prize, Global Series Points, and a spot in the final.
The first tournament was held on June 21 and included a prize of $28,000. Week 2 happened on July 11 and 12th, and the winnings were also $28,000. Weeks 3 and 4 were held on July 25-26 and August 8-9, respectively, with a further $28,000 awarded for both events.
The last event for the Summer Circuit does not include a cash prize but awards the winners a spot in the September Playoffs.
The Summer Circuit Playoffs are scheduled for September 12-13 and have a prize of $388,000. Winners will also get Global Series Points.
There are currently 20 Apex Legends teams for each region that qualified for the September Playoffs.
Americas

1

Team Solo Mid

2

Complexity

3

Smile

4

NRG

5

Sentinels

6

Sola Fide

7

Aim Assist

8

Team Liquid

9

Flying Drone

10

GODSENT

11

Counter Logic Gaming

12

Team Superior

13

Millions Gaming

14

Rogue

15

HRN

16

Yeet Squad

17

Brazucas Team

18

CPTL eSports

19

303 Esports NA

20

Da SQUAAAD
EMEA

1

Gambit Esports

2

OUTSIDERS

3

THIRD IMPACT BLACK

4

GnaskeStrafeDel

5

North

6

Alliance

7

Flavor of the Month

8

Luminosity Gaming

9

Lazarus

10

LavaCityBoysz

11

MajorPushers

12

Ad Hoc Gaming

13

SJP2

14

Gamers Origin

15

Varazze

16

Nessy

17

1907 Fenerbahçe Esports

18

POWER

19

Les Cités de France

20

Exorcism
APAC North

1

Crazy Raccoon

2

OP.GG Sports

3

DeToNaTOR

4

HybridEclipse Arise

5

SunSister God

6

Black Bird Ventus

7

GTS Temporary

8

Jupiter Xena

9

Jupter Vega

10

TI KR

11

NoraRengo

12

Luster 7

13

Crest Gaming

14

SCARZ Black

15

ASLAN CreateRED

16

SCARZ White

17

REJECT

18

CrazyCatsCosmoIXIA

19

ZERO DORAGon

20

WayMyriad
APAC South

1

MiTH.APEX

2

DreamFire

3

LYNXTH

4

WOLFPACK ARCTIC

5

EXO

6

JESTER

7

MiTH.APEX TEAM 2

8

WOLFPACK ALPHA

9

MORPH TEAM

10

HEKTIIK

11

RedSea Perangai Gaming

12

WTFRangers

13

Athaim

14

Thonburi Esport

15

Xavier Esports

16

Invictus Gaming

17

Griefing Apes

18

Armory Gaming

19

1NL

20

AF Hexa
---
Summer Series History
The Apex Legends Summer Series is a massive event. There are hundreds of teams from all around the world that compete for a spot in the Playoffs.
This year only a handful will win the top prizes and advance to the finals to make ALGS Summer Series history. Most of the top esports sportsbooks feature betting on the Apex Legends Summer Series for 2020 and beyond, with this game growing increasingly popular as a wagering medium.
Apex Legends is among a wave of new competitive video games that have betting on them, with others including PUBG and VALORANT, which are two of the most popular esports games in 2020.